MLL Showcase: Within the College of Arts & Sciences, the Department of Modern Languages and Literatures hosts a vibrant internship program, which offers a variety of practical opportunities to its students.  Featured here is a profile of Olumayowa Olujohungbe (see below).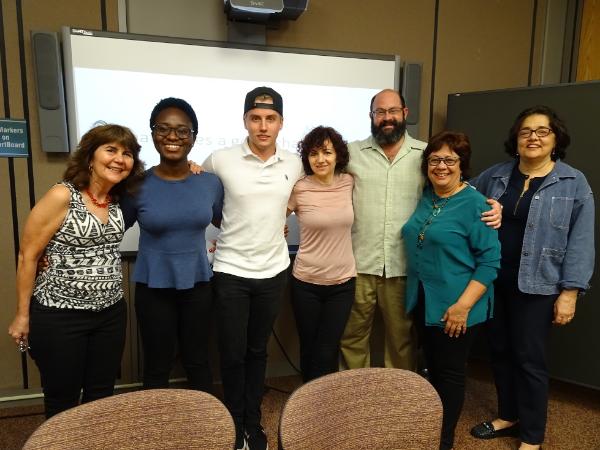 IN THE PICTURE ABOVE (From left to right): Viviana Díaz-Balsera, Professor and Director of Undergraduate Studies; Arthur Soderberg, Internship in Portuguese with 'Star of Hopes'; Olumayowa Stephanie Olabis Olujohungbe, Internship in Spanish with 'TECHO'; Mojca Del Fabbro, Lecturer of Italian, Internship Coordinator; Steven Butterman, Associate Professor and Director of Portuguese Program; Lillian Manzor, Associate Professor and Chair; and Leila da Costa, Senior Lecturer of Portuguese‌
To find out more about Modern Languages and Literatures click here
Olumayowa Olujohungbe's reflections from her internship experience with TECHO:
(1) How did your majors/minors inspire you to pursue an internship and how effectively did your courses and A&S teachers instill in you the motivation to pursue an internship?
I am a Public Health and Spanish double major with minors in International Studies and Health Sector Management and Policy. My biggest challenge as a Spanish major is speaking Spanish with fluency. When I was told by Dr. Elena Grau-Lleveria in the Spanish Department about an internship opportunity that would allow me to improve on my speaking abilities as well as gain/enhance my skillsets, I realized it was an opportunity that I should pursue. Dr. Mojca Del-Fabbro, who is in charge of the MLL internship course, made sure that no matter what I needed throughout every step of the internship I had it, and with the encouragement and support from both her and Dr. Grau-Lleveria, I was able to do a great job.
(2) Identify and briefly describe the organization where you completed your internship.
TECHO, which means roof in Spanish, is a nonprofit organization whose mission is to combat extreme poverty in slums in Latin America and the Caribbean. The organization was founded in 1997 by a Jesuit priest named Felipe Berríos and a group of university students, under the name Un Techo para Chile. They realized that their communities had a need to be filled and that need was extreme poverty. The initiative they created to help alleviate this problem was to build emergency houses made from wood with the help of the families who occupy those same houses. After the construction, the students would help the families look for more sustainable solutions to their poverty problems. Today, TECHO is an organization that works in 19 countries in Latin America and the Caribbean.
(3) What type of contribution does the organization make to society, and how has your involvement with this contribution changed you as an individual, and the way you envision your future?
TECHO's goal is to eradicate extreme poverty in Latin America. My goal as a future public health professional is to address issues that cause poor health outcomes for people. Poverty is one of these such issues. Interning for TECHO showed me one of the numerous career paths I can take as a public health professional and knowing that this flexibility is available to me shows me that my options are limitless.
(4) To what extent were you provided with creative space to demonstrate personal initiative, professionalism, and resourcefulness as an intern? 
The skill that was best enhanced for me was my resourcefulness. I was in charge of translating documents from Spanish to English and creating presentations that would be shown to donors. Through this work, I was able to gain a better understanding of Spanish syntax and was able to refine my skill of translating ideas from Spanish to English without losing the meaning. I was also given a lot of freedom in deciding how to format the presentations once the framework had been presented to me.
(5) What administrative skills, research skills, technical skills, or other types of skills did you acquire and/or improve as a result of this internship experience?
I was able to gain a lot of confidence. Before my internship, I had a huge fear of speaking in Spanish. Now, a lot of this fear is gone. While this is not a specific skill per se, having confidence allows you to complete tasks much easier because you are not scared to ask the necessary questions needed to complete tasks by deadlines. I was able to speak in Spanish and my supervisor always encouraged me and corrected me so that I could learn from my mistakes.
(6) What are the three main strengths you developed in yourself as a result of the internship experience and in what ways has the internship enhanced your overall academic experience at UM?
I developed more confidence, acquired more knowledge about how to encourage people to support a social cause, and I learned better Spanish speaking skills. My internship allowed me to really put together all that I have learned while at UM and put it to use in a real work setting which was an invaluable experience for me.
(7) What would be the three most important pieces of advice you'd give to students to inspire them to pursue an internship?
I would say to make sure the internship is in a field that they are passionate about because you want to love what you are doing and you gain the most out of something when you put your all into it. I would also say that it is a great experience because it provides a view into the work force without the same amount of pressure and that you get to meet great people in a prospective field.